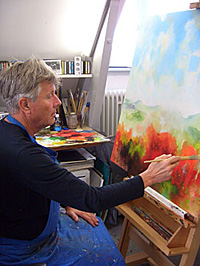 Dirk Koopman is inspired by nature, in particular the effects of light. He uses the idea of the comparative cycle of Heraclytos. Everything is in motion, generally present, part of the same cycle, eternal motion. But what is observed changes constantly; birth, growth, decay, dawn, daytime, evening, night: each stage has its own dynamics. But there is always development, change.

He is fascinated by the phenomenon of light that reflects dynamism and change the best.
Observation offers a divers field of associations. The observer chooses, creates his own reality. The painting reflects his inner self. And reality is never the same, different at any moment.

His paintings tend to abstraction and are sometimes completely abstract. Oil or acrylic, lyrically painted and colourful. His continuous search for light reveals itself in the canvasses and panels with windows, seas of fire, landscapes and more abstract works. After several years of formation in the atelier of an Amsterdam painter, he has followed his own way. Since 1985 he works as a professional painter. Influenced by the painters William Turner, Paul Cézanne, Willem de Kooning and Eugène Brands. The paintings are on canvas or panel, with oil or acryl; the drawings on paper with ink and/or sepia.

| | | |
| --- | --- | --- |
| | | |
| Eugene Brands | | Willem de Kooning |